J.L. Taylor Company Inc. is ready to assist you with EV Charging Station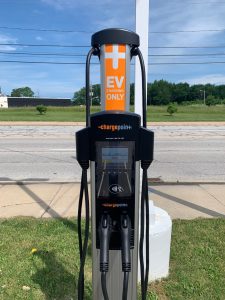 Widely distinguished as a leader in commercial and industrial electrical contractors throughout the Cleveland, Akron, and region, J.L. Taylor Company, Inc. was founded in Geauga County, Ohio in 1979 by David C. Tiber. With over four decades of experience, we are renowned for delivering the finest and most exceptional commercial electrical services in the industry. Our team of highly experienced professionals are presently able to install turnkey Electric Vehicle (EV) charging stations for dealerships, businesses, and in residential areas in Geauga County.
As electrical experts we are offering turnkey EV charging station installs and offer this service to dealerships, business owners, and homeowners. Our team can assist clients in determining the best site for their turnkey EV charging station to that best meets all their charging system and site electrical load needs. We also help oversee all your electrical installation requirements. We will help determine the best location for your EV charging station and facilitate all concrete/asphalt removal and trenching for outdoor units across a driveway or parking lot. In addition, the J.L. Taylor team will handle the concrete pad install for pedestal mounts and all charger installs and mounting procedures.
Not only will your electrical contractors at J.L. Taylor manage your EV charging station infrastructure, but we will make sure that we provide you with the finest high-tech electrical design and the most sophisticated electrical install, so that your EV charging station will be the complete advanced system you deserve. To learn more about our turnkey Electric Vehicle (EV) charging stations, call J.L. Taylor Company, Inc. at (440) 834-1223 today.